Durite LED Illuminated Rocker Switches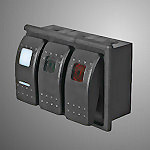 LED illuminated rocker switches, create custom rocker switch assemblies for marine and automotive electrical switching application using the available components. The selection offers the ability to custom build momentary on, off, on and changeover switches with printed legend options, the section includes a comprehensive range of function decals for most moving vehicle attributes standard or auxiliary.
Each switch is IP66 protected from the front, available in double or single pole versions and they are dual voltage for 12V or 24V DC application.